Main Index
Latest News
Welcome
Welcome to Mortal Kombat Warehouse, the most complete Mortal Kombat source in the web.
Browse the site choosing a game from the menu, here you'll find Story, Screenshots, Arenas, Props and Fighters of the game, each fighter page includes: A complete Spritesheet, Biography, Animations, Props, Movelist, Fatality Videos, Ending, Renders, Cut-Out Pictures, Wallpapers and more!
Latest Updates



It's finally here, the compilation of the 3 original klassics is now available on PSN and XBL for 800 MSPoints / $10.
I got caught up playing the game so much (got it on both consoles) and I couldn't get a special section for the game in time, I will however put something up soon, in the meantime check the games' information in MKO's sections for now:
Be sure to check the requirements to perform animalities/babalities/friendships, as those are often forgotten, also check the ultimate kombat kodes in UMK3's section to unlock Ermac, Classic Sub-Zero and Mileena (they're not available from the start in local play, they are in online though).
If you enjoyed the classics back in the day or if you're new to the series I highly recommend getting this release in the console of your choice (PC version incoming too!), there may be a few hiccups here and there but the fidelity of the original games is there, it's the perfect arcade experience from the past.
Freddy Krueger comes out today on PlayStation 3 and Xbox 360! Check your respective marketplaces, you can find him for $5 or 400 Microsoft Points today, here's his vignette:
His finishers are listed below:
Xbox 360
Tell Em' Freddy Sent Ya (anywhere)

Welcome to my Nightmare (sweep)

Stage Fatality

Babality (jump)
PlayStation 3
Tell Em' Freddy Sent Ya (anywhere)

Welcome to my Nightmare (sweep)

Stage Fatality

Babality (jump)
This update brings a FREE compatibility pack with the Unmasked Sub-Zero and Retro Cyber Sub-Zero costumes:
Once again, thanks to interloko we have cut out pictures for this nightmare in his character page: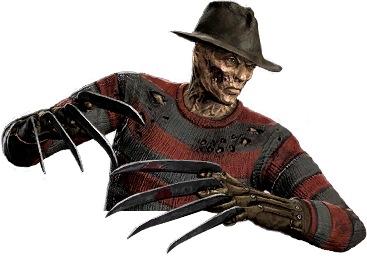 Stay tuned for the movelist, it should be available later today.
Also I'm aware there's problems with some versus cut out pictures (full versions) I'll try to fix them if the site FTP lets me.
EDIT: Movelist added, vs cut out pictures fixed.
EDIT2: For PS3 the compatibility pack is a mandatory update (version 1.04), so don't look for it in the PSN store.