Injustice: Gods Among Us
Harley Quinn
Render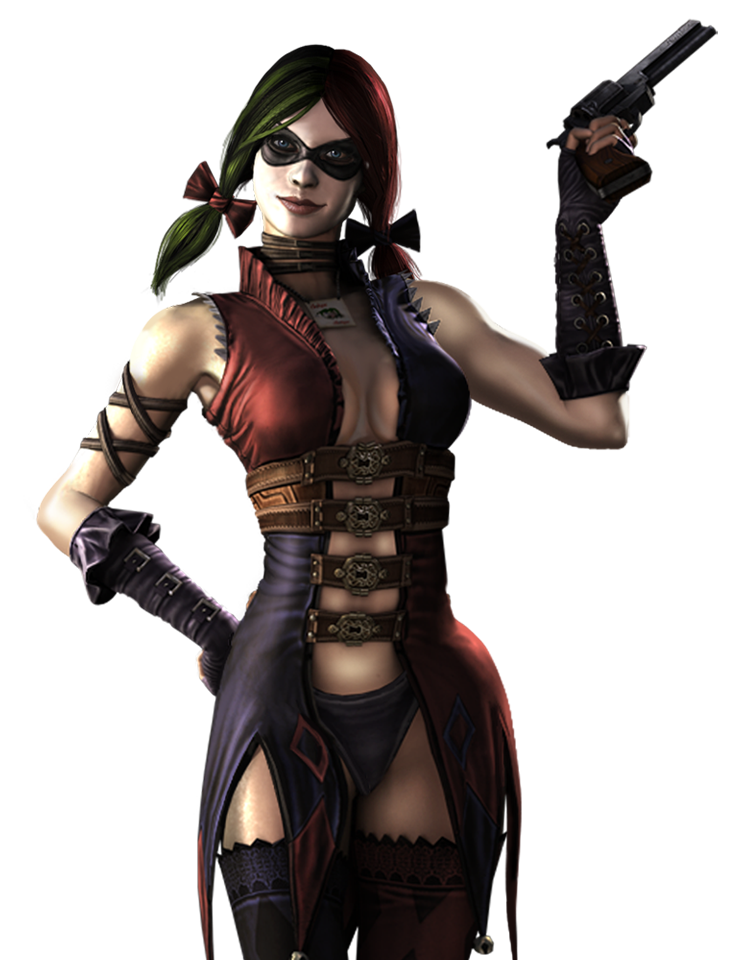 Biography
Harleen Quinzel was a psychiatrist who fell in love with her patient: The Joker. Intoxicated by him, she adopted the Harley Quinn persona and helps in his criminal pursuits.

Disarming, unpredictable fighter
Far more intelligent than she lets on
Superb agility and strength
Immune to most poisons
Special Moves
Xbox 360
Pop Pop

Line of Fire

Heads Up

Oopsy Daisy (Air)

Cupcake Bomb

Play Doctor

Silly Slide*

Tantrum Stance*

From Tantrum Stance:

Forward Cartwheel*

Hand Stand*

Bullet Frenzy*

Forward Somersault*

Backward Somersault*
PlayStation 3
Pop Pop

Line of Fire

Heads Up

Oopsy Daisy (Air)

Cupcake Bomb

Play Doctor

Silly Slide*

Tantrum Stance*

From Tantrum Stance:

Forward Cartwheel*

Hand Stand*

Bullet Frenzy*

Forward Somersault*

Backward Somersault*
* = Can't meter burn this move
Ending
The defeat of Superman filled Harley with confidence.
She knew what she was capable of, and knew what she wanted.
She traveled to the visitor's Earth and freed The Joker from prison.
Returning to her world, they married in a ceremony that set Gotham ablaze.
At the reception, the cake cutting ceremony took a gruesome turn.
As her new husband playfully mashed her face into the cake, years of abuse took its toll.
Something in Harley snapped.
She used the ceremonial knife to slash Joker's throat.
Still wearing her wedding gown, Harley now resides permanently in Arkham Asylum.