Cut-Out Pictures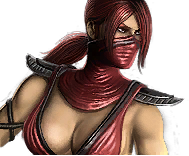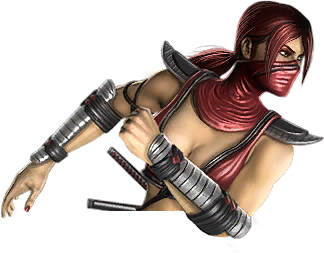 Biography
Shao Kahn has many warriors under his command, but his trust lies solely in the fighters of his own creation. Warrior blood gathered from countless battlefields, fused with sorcery, produced his most effective enforcer yet: Skarlet. An expert tracker, she preys on those deemed enemies of the empire. During kombat, Skarlet gains strength from her opponent's blood, absorbing it through her skin. Shao Kahn has a new mission for this formidable kombatant: discover Quan Chi's true intentions and kill him if he plots betrayal of the emperor.
Ending
Controlled by Quan Chi's sorcery, Skarlet attacked and destroyed Shao Kahn. As Quan Chi's magic subsided, she realized her unwitting role in his want to bring ruin to Outworld.
With Shao Kahn's blood splattered across her body, Skarlet absorbed his immense strength. She used this newfound power against Quan Chi. Brotherhood of Shadow warriors raced to defend the sorcerer, but their blood only served to make Skarlet invincible. In a battle between sorcery and gore-fueled fighting power, she avenged her fallen master. Having served her purpose, Skarlet disappeared into the shadows awaiting Shao Kahn's rebirth.
Ending images