Main Index
Latest News
Welcome
Welcome to Mortal Kombat Warehouse, the most complete Mortal Kombat source in the web.
Browse the site choosing a game from the menu, here you'll find Story, Screenshots, Arenas, Props and Fighters of the game, each fighter page includes: A complete Spritesheet, Biography, Animations, Props, Movelist, Fatality Videos, Ending, Renders, Cut-Out Pictures, Wallpapers and more!
Mortal Kombat Komplete Edition is finally available on Steam!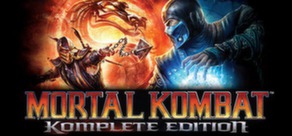 Go grab it if you've been one of the many people to ask for this version of the game since the console version came out, and remember to check the Finishers list and the list of Achievements.
Also, let me know if you make any mods for the game, I'll gladly add them to the site, just send me an email.
Update 1: New props added, check the props section!
Update 2: Fatality graphic now added, highest quality possible.
Update 3: Arenas section finally done, featuring art extracted directly from the game.