Cut-Out Pictures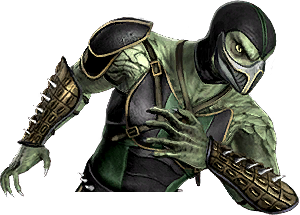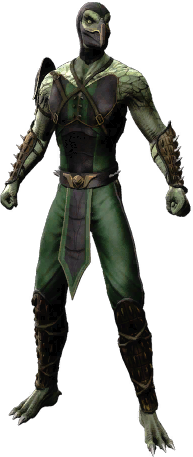 Biography
His home realm of Zaterra is gone, mysteriously destroyed ages ago. Reptile is the last known surviving member of his race. He has since made Outworld his home. Shao Kahn has made use of Reptile's mastery of stealth to spy on suspected traitors and slay known enemies of the empire. But the knowledge that he is the last of his kind gnaws at Reptile. He would give anything, kill anyone, if it would bring his realm back from the abyss. Self-pity fuels his aggression as he inflicts suffering and death on others.
Ending
Having defeated Shao Kahn, Reptile was feared by all. He forced Shang Tsung to regenerate his Raptor race.
The process took agonizing months, but soon Reptile heard the snarls of young broodlings throughout the Flesh Pits. Eventually Shang Tsung had created an army of Raptor warriors bred to serve Reptile. They stormed the realm, killing any Tarkatan, Shokan or Centaur who opposed Reptile's rule. The intoxicating feeling of reuniting with his people blinded Reptile to the suffering of his former comrades. Reptile was home once more.
Ending images