The Site
About MKW
Introduction
With other power-house MK sites in the kommunity, MKW had to be different and hold kontent that no other MK site had at the time. As most MK sites updated with MK news MKW updated with kontent that was added to the site. MKW had/has no leads with news info so it was imperative that it find some other souce of MK media to attract it's viewers. Thus sprites came into the picture.
At a time when news was limited, residents of the MK Kommunity found various activities to occupy thier time while waiting for another news update. Users created fan fictions, fan art, and fake MK images. That's where MKW came in. With the introduction of fake images being widely made, MKW found it's niche in the MK Kommunity.
In order to make fake MK images you need, sprites, props, a background, blood effects, ect. MKW started producing these for users to download whenever. As MKW gained more and more popularity, MKW started producing more kontent from the games. Endings, Bios, Game Credits, MK Midis, Fonts, ect, can be found on MKW. The majority of the users that come to MKW still come for it's sprites. MKW thanks it's viewers for making it one of the most richest sites for MK kontent on the net. There is more to come still.
Version 0
None of the actual staff members had any relations with this version, but it deserves to be mentioned.
This Warehouse was just a section of The Mortal Kombat Archive, the webmaster of this site was Minus_Zero, it was the first place where to get sprites in the MK world.
Before this site closed, me (Murdoink) saved all the sprites, backgrounds and props the site had into his hard drive, without knowing what would happen next.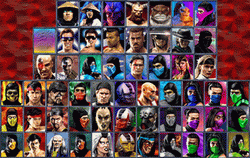 Version 1
Around one year after Murdoink started with his website -Shadows' Illusions- The Mortal Kombat Archive closed - and the Warehouse never came back - and the sprites Murdoink downloaded was the best addition to his website, since nobody else downloaded the sprites that The MKArchive had.
Shadows' Illusions was a website (in spanish) for everything Murdoink liked at that time, obviously it had some Mortal Kombat-related content, but after the addition of the sprites it was called Murdoink's Warehouse, with nothing but Sprites, Props, Backgrounds and some Misc MK content.
This Warehouse had almost no text on it, the sprites updates were just the lists with the new sprites, and the whole site consisted in one big select screen and some buttons to the other content.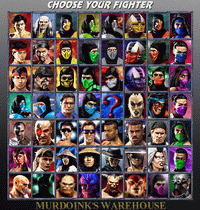 Version 2
After I noticed that MKWarehouse was really popular, I decided to make a new layout, the first version of this site had frames, then in Version 2.5 the frames were removed.
There was way more content in this version of the site, Animations, Story, Endings, Extra Stuff, Special were some of the section that this version had, without forgeting Sprites, of course.
Before the release of this version, Shadows' Illusions was closed, and The Mortal Kombat Warehouse became my full time site, also, I was in charge of this site alone, many people remembers that it was the reason why it was so good. =)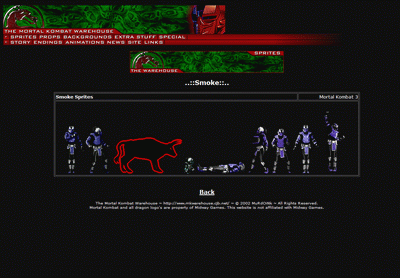 Version 3
This version was pretty cool, since Potent_Seed started to sponsor the site, he got a domain and a huge hosting to me to put the site in.
This site had the unforgetable left menu, made with Java Script. :P
There was a Version 3.5, the things that changed were the header and the tables for the content.
And talking about content, this version added some Media and hosted many Fake Pic Kontests.
This version of the site opened on May 25, 2003.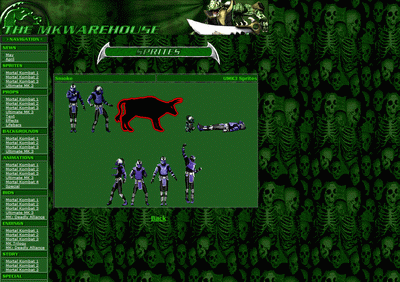 Version 4
Thus the 4th version of MKW. We here at MKW wanted to try our hands at a hand coded, forum merged site. It took months to make this version. We only left it open a month. It wasn't quite what we were looking for. It was a huge step but once again we were disappointed by failure.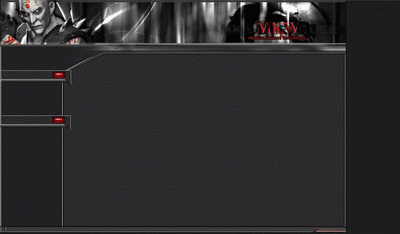 (That's a beta of the layout)


Version 5
The fifth version of the site came out after the failure of the fourth, I designed it while I was on vacations (with a sketchbook in the beach) and coded it only with Notepad when I came back to my house.
It was pretty fun to do, while the previous version of the site was being made I was not only trying to have a life but I learnt some CSS stuff that was really useful for this version, with the help of ACJ I could add a variety of themes to the site so it wouldn't look boring, the menu was arranged and contained everything the site had to display, plus the new tables (they're divisions, anyway) were cleaner and easier to edit.
When it was released it seemed that everybody liked it, and it was during this time that the site was enhanced with a ton of new misc sections, animations and a couple of sprites, of course.
This version came out around February 2004, and went down December 13th, 2005.