Main Index
Latest News
Welcome
Welcome to Mortal Kombat Warehouse, the most complete Mortal Kombat source in the web.
Browse the site choosing a game from the menu, here you'll find Story, Screenshots, Arenas, Props and Fighters of the game, each fighter page includes: A complete Spritesheet, Biography, Animations, Props, Movelist, Fatality Videos, Ending, Renders, Cut-Out Pictures, Wallpapers and more!
Latest Updates




It's that time again, thanks to our staff member Maggo for this one:
There are still more spritesheets to come, but don't expect them to arrive during this week, I'm really busy with college and stuff.
Anyway, about this week's spritesheet, if you wonder how this spritesheet was ripped, the answer is: not from the game itself, but by color swapping Scorpion's spritesheet (although black is not a color), making this spritesheet look exactly like Noob Saibot from Mortal Kombat Trilogy, where he's not enterely black like in UMK3.
At last but not least, expect a big MKA update on the site, we're getting the game's section ready as we continue to get closer to the release date of the game, stay around.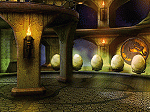 Following the last update on the official MKA site, I decided to update with the renders of both the Prison and Reptile's Lair arenas.
And along with that is the best part of this update, I opened a new section containing all the renders for the 30 characters that are currently available on the official site, the special thing about these pics is that they have a transparent background, which makes them perfect for digital art, sigs, comics and stuff, without further ado here's the new Cut Out Renders section!
Also, MKW is in need of a graphics guy, anyone with l33t Photoshop skills please comment on this post, among the things this guy (or girl) will have to do is some PS2 and X-Box buttons along with cutting out the versus pictures of MKA that have been floating around.
PS: Why aren't you watching the opening movie for MKA?

Yeah, I know it's been a LONG time since the last update, and even more since the last spritesheet was updated, but it's just that I haven't got a spritesheet to update with in the first time, Maggo is still ripping MKT Noob Saibot, and MKR is still cropping down some old spritesheets for MKII.
Anyway I found something among the old and unfinished updates archive and uploaded it:
Kontent submitted by WeaponX
Although the spritesheet is like 85% completed it still works for now, and if you're wondering why it took me so long to update with it it's cause (the spritesheet) was on BMP format.
Finally, we've got a new affiliatte, Fuzzd0rk's Mortal Kombat:


For the next update we'll have another spritesheet, this one will be within this week, but if anyone knows where to get an automatic sprite cropper the update would come up like right now.
[Update 1: Nightmaric has submitted Sheeva's normal punching and kicking sprites, they're now available on the sprites page.]