Main Index
Latest News
Welcome
Welcome to Mortal Kombat Warehouse, the most complete Mortal Kombat source in the web.
Browse the site choosing a game from the menu, here you'll find Story, Screenshots, Arenas, Props and Fighters of the game, each fighter page includes: A complete Spritesheet, Biography, Animations, Props, Movelist, Fatality Videos, Ending, Renders, Cut-Out Pictures, Wallpapers and more!
Latest Updates



It's pretty much confirmed now, it was up on GameStop up for pre-order earlier this week and now it's everything but official: an HD remake of the MK1, MKII and UMK3 is coming exclusively to PS3, I'll leave you with the (european) boxart that appeared online today on JeuxVideo: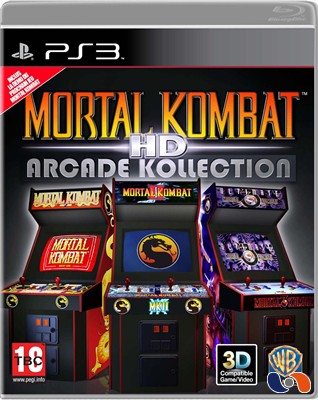 I for one I can't wait for the official announcement, trailer and/or screenshots! Did they make new sprites? Will the original ports be included? Is there going to be netplay? And if this thing is fake I will probably cry.
With that said, expect a huge revamp of the games section to go with this new release!
Thanks to the various posts on my twitter timeline for bringing this to my attention, this is huge news!
EDIT: TRMK reports that the red corner of the boxart reads "includes the demo for the upcoming Mortal Kombat Game". Which means that not buying this is a very bad idea.