Main Index
Latest News
Welcome
Welcome to Mortal Kombat Warehouse, the most complete Mortal Kombat source in the web.
Browse the site choosing a game from the menu, here you'll find Story, Screenshots, Arenas, Props and Fighters of the game, each fighter page includes: A complete Spritesheet, Biography, Animations, Props, Movelist, Fatality Videos, Ending, Renders, Cut-Out Pictures, Wallpapers and more!
Latest Updates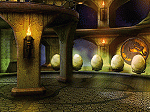 Following the last update on the official MKA site, I decided to update with the renders of both the Prison and Reptile's Lair arenas.
And along with that is the best part of this update, I opened a new section containing all the renders for the 30 characters that are currently available on the official site, the special thing about these pics is that they have a transparent background, which makes them perfect for digital art, sigs, comics and stuff, without further ado here's the new Cut Out Renders section!
Also, MKW is in need of a graphics guy, anyone with l33t Photoshop skills please comment on this post, among the things this guy (or girl) will have to do is some PS2 and X-Box buttons along with cutting out the versus pictures of MKA that have been floating around.
PS: Why aren't you watching the opening movie for MKA?